As part two of our craftmans exchange program with Atomic Object, we were very happy to welcome Matt Fletcher for a week in Stockholm.
We usually post in Swedish, but this one I'll do in English.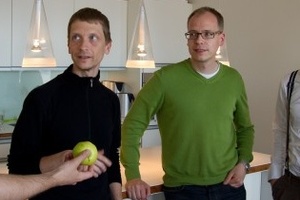 This past week has been special. Citerus had the great pleasure of having Matt Fletcher from Atomic Object visiting as part two of our craftsman exchange program. Mattias Holmqvist at Citerus kicked off the program in April when he travelled to Grand Rapids in Michigan to spend a week with Atomic Object as a member of Matt's project team. But this time around it was our turn to be hosts.
The nice people at my current client were kind enough to allow for Matt to join myself and Håkan Jonson in our project for one week.
Matt joined our project as a full-fledged team member and it was a joy to see how fast he managed to wrap his head around the different parts of the project. Initially we paired on solving a couple of annoying issues that had stayed around a little too long. One thing we worked on was to enable the possibility to easily deploy our app to our cloud PaaS provider by kicking off a build on our build server, very nice. Later in the week Matt participated in the sprint planning and help out with modeling and initial implementation of the multi-tenancy features of the system. Matt also facilitated a paper-prototyping session on a particularly tricky user interface challenge.
We wrapped up the week with a visit to the Citerus Uppsala office for our monthly Citerus day gathering. During the Citerus days all people at Citerus gather to share ideas and experiences from the last month. We also find time for helping each other out with challenges in our current projects, develop new future products and just informally catch up with what everyone's been doing lately.
This was a special occasion for me. The history dates back to the late 90's when Carl Erickson, co-founder and president at Atomic Object, visited Sweden and Uppsala University for a year as guest professor. During Carl's time in Sweden he helped set up an exchange program between Uppsala University and Grand Valley State University, in which I had the opportunity to participate. I also had Carl being the examiner of my Master Thesis project back in the days (back in the days of EJB 1.0 to be more precise…). So welcoming Matt this week was a pretty big event to me personally.
It was a great week, and we hope these two first exchanges will pave the way for many more ahead!
Read Matt Fletchers blog about his experience here